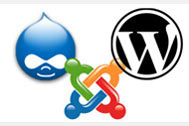 Your website is part of your brand, and the first point of contact for potential clients and customers. It is therefore mandatory that your online image reflects your business philosophy, professionalism, products, services and vision.

Mobius MBL recommends building your site with an open source Content management System (CMS), since this provides the client with the ability to manage their own site without having to have significant programming or technical computer skills. This makes it very easy to manage all aspects of their web site, from changing pictures, changing or adding article content, managing users of the site, in fact, everything a serious and professional web master would do.
This is not to say that all of this may still be daunting to some clients, or that some clients simply would not have the time, nor the inclination to do this management themselves.
In any of these cases, Mobius MBL can manage the site on our clients behalf for a consulting rate that would make this option extremely attractive.
Irrespective of who actually manages your website, by our use of a CMS, management is made simple.

So what does a CMS allow you to do yourself?
Edit all of the content of your website.
Add new pages Upload and insert images
Add new menu items to link to your new pages
Program pages to turn on/off under certain circumstances or at certain times - for example, you could have an article appearing on the front page, but have it automatically expire after a certain period, or indeed, you could write an article for the front page, but have it appear only at a certain time. The options with a CMS are endless, and you don't need to be a tech-head to do it.
Upload video/audio to your site
Add news feed items from a great variety of sources
Manage the security levels of your site visitors, ie, who can look at certain articles or pages - the public or different levels of registered users?
Change the overall look and presentation of your site in a flash (Note that this should not be done too often, the site is your brand after all, and should remain quite stable. Having said this, it may be a good idea (for example), to change the background on a seasonal basis eg, have a Christmas theme, have a local event theme at certain times of the year. The options are endless).

Will we need any training to manage our site ourselves?
For many users with some degree of familiarity with computers, we think not. However, it may be daunting for some users, in which case, Mobius MBL will provide full training in how to use and manage your website. You then will see just how easy this is, and be in a position to decide if you want to manage the site yourself, or have us do it for you, at a rate which we know will be unrivalled.

What functionality can we have on the site?
An open source CMS has literally thousands of extensions which are freely available for you to use, and the list is still growing. These extensions provide a variety of functionality. Some of the more commercially oriented extensions are available for a cost, but that cost is usually insignificant. While the list is endless, some examples of the extensions available include:
Search functions.
Calendars
Slideshows
Newsletter facilities
Other mass mailing facilities
Events recording
Banners
E-Commerce facilities
Maps and Weather information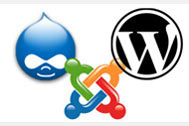 So which CMS is the best to use?
The jury is out on this one. Ask 100 competent professionals this question, and you could get 100 different answers. That doesn't mean that 99% of them are wrong, its just that there are different reasons, philosophies, uses, etc. to determine which one to use.
As a rule of thumb, our view is that:
You should use an Open Source CMS. This means that it is free, and is under constant development by many thousands of developers in every part of the world, so it isn't likely to go out of date, and support will always be available


With an Open Source system, you will not be locked in to a particular source for support. This is important to give you flexibility. Some providers use their own proprietary CMS, which means that you either have a steep learning curve, or you have to use the provider for support. Costs in this case may be high, and availability is not guaranteed in the time frame you may require.
Ask the question from your developer about Open Source. There are many excellent proprietary CMS systems, but you will get locked in to a relatively few developers if you use a proprietary CMS system.

Mobius MBL recommends using an Open Source CMS with a template approach, which means that the site can be available in the shortest possible time, and with the least amount of programming. There are of course pros and cons to this approach. Click here for more details
There are many such Open Source CMSs, but Joomla, Drupal and WordPress are the most highly rated and widely used

Systems such as Expression Engine for instance are excellent, but I would avoid these for many reasons, least of which is the development support is much less than any of the other three major systems (Joomla, Drupal & Wordpress).

Mobius MBL recommends using the Joomla CMS. This is because we regard it as the best, we think it has the most support, and we believe that its longevity is the most secure. Currently it has a small percentage of the world market, but that is growing significantly.

Joomla has been built as an enterprise CMS, unlike WordPress, which was built as a Blogging tool (although it is getting much better)
WordPress is an excellent CMS, and is the most widely used. It has also been around the longest, so it has a huge market implemented base, but again, I wouldn't use it for reasons outlined here and in other articles, on this and other sites. Google it!

Mobius MBL DOES NOT recommend using WordPress. This is because WordPress, excellent though it is, is more suited to a Blogging application, and is not quite as sophisticated as either Joomla or Drupal.We also believe that its exposure will reduce, as that of Joomla and Drupal increases
I Have Done A Google Search, And Am Confused
If you have Googled the major CMS systems, you will almost definitely not get a good answer, and you may end up more confused than before you started.
There are literally thousands of reviews out there, and while they all claim to be objective of course, I really dont think that too many of them are.
This really is a minefield for users without IT experience....... in fact it is also the case for experienced IT people as well..... The Holden / Ford argument has nothing on this CMS argument.
I think the best thing is to get a developer you know and trust, and simply go along with what they think..... whether that be Joomla, Drupal, Wordpress, or any other system.
To repeat, as an IT professional with many years of experience, for what it's worth, I have specifically chosen Joomla as a development tool. It has its pros and cons, but does the job admirably.
My Personal View On The 3 Major CMS Systems

This is ofcourse quite subjective, but supported by many.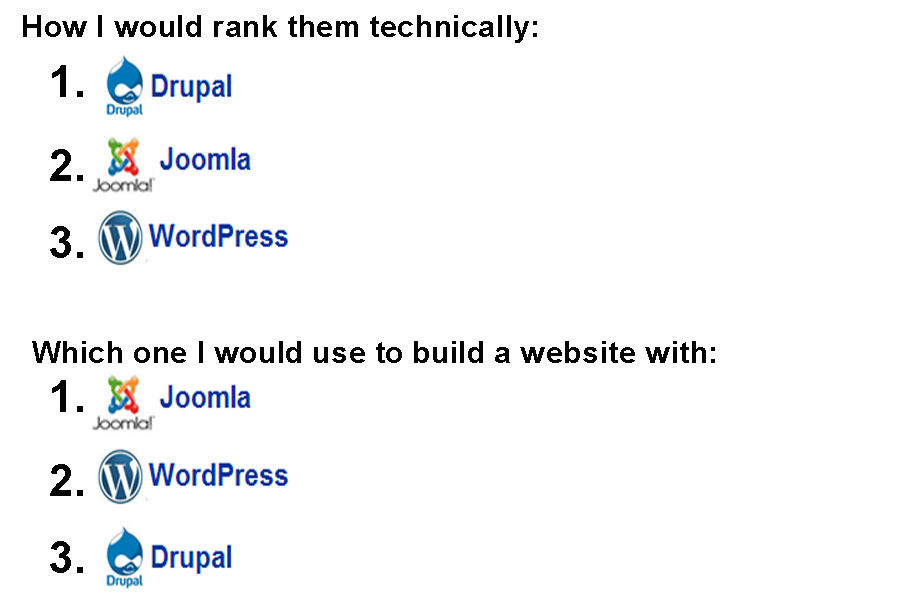 And finally, here is just one link to support this..... there are many who would both agree and disagree with this...... this is just my view: CMS Comparisons